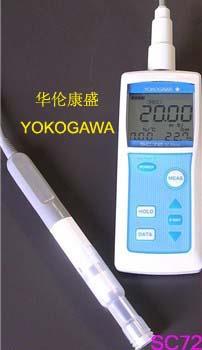 [Explain in detail ]
Characteristic such as being small-scale and lightweight, usable, waterproof of SC72-11-E-AA walkie conductivity appearance, very suitable for scene and laboratory application.
Small-scale and lightweight.
Watertight construction (IP67) ,Hermetic outer cover and interface unit cover, the water-proof performance are remarkable.
0~2000mS/cm automatic variable range.
The macro-screen LCD reveals, easy to look over.
Automatic temperature compensation. (NaCl curve or user's self-defining coefficient)
The selfdiagnosis of the exception condition calls the police.
Automatic power off function, lengthen the battery life-span.
300 data storage. (store conductivity value, temperature, date and time)
Warning function of the audio frequency.
Lectotype table:
Type
Suffix code
Description
SC72
Walkie conductivity appearance
Sensor
-00
There is no sensor
-11
Measure as to low conductivity and sensor ' Cable length: 0.75 meters)
-21
With the general sensor ' Cable length: 0.75 meters)
-23
With the general sensor ' Cable length: 3 meters)
-31
With the mesa type sensor ' Cable length: 0.75 meters)
-41
Measure for high conductivity and sensor ' Cable length: 0.75 meters)
Language
-J
Japanese
-E
English
-
-AA
Always AA
The lectotype gives an example: SC72-21-E-AA
Measurement
Conductivity of solution
Unit
S/cm or S/m
Liquid temperature
0~80 ¡æ
Measurement limit
Conductivity: 0-2¦Ì S/cm 0-2S/cm (depend on the used sensor)
Electrical resistivity: 0~40.0M¦¸ x cm
Temperature: 0~80 ¡æ
Precision
Conductivity: 0.05%F.S.
Electrical resistivity: 0.1M¦¸ x cm
Temperature: 0.1 ¡æ
Repeatability (conductivity)
¡À 2
Reveal
Figure LCD
Instruction
Conductivity or electrical resistivity, solution temperature and the coefficient of temperature (at the same time) ,Various information display
The range is switched over
Automatic / manual
Temperature compensation
Temperature coefficient (0~9.99% / ¡æ) Or NaCl coefficient, reference temperature is 25 ¡æ
Ambient temperature
0~50 ¡æ
Structure
IP67(JIS C0920)
Weight
About 220g (excluding the sensor)
Power
2 AA dry batteries




Contacts: Cai CaiHua
Telephone: 860755-28144491
Fax: 860755-28127773
Email: hlks17@163.com
Web site: http://www.hlks.com.cn
Address: L district of 6 layers in Long Sheng commercial mansion of the intersection of Medulla Junci of Shenzhen and the intersection of billow of newly developed area and the intersection of peace of street and Luis 368 No.
Leave a comment