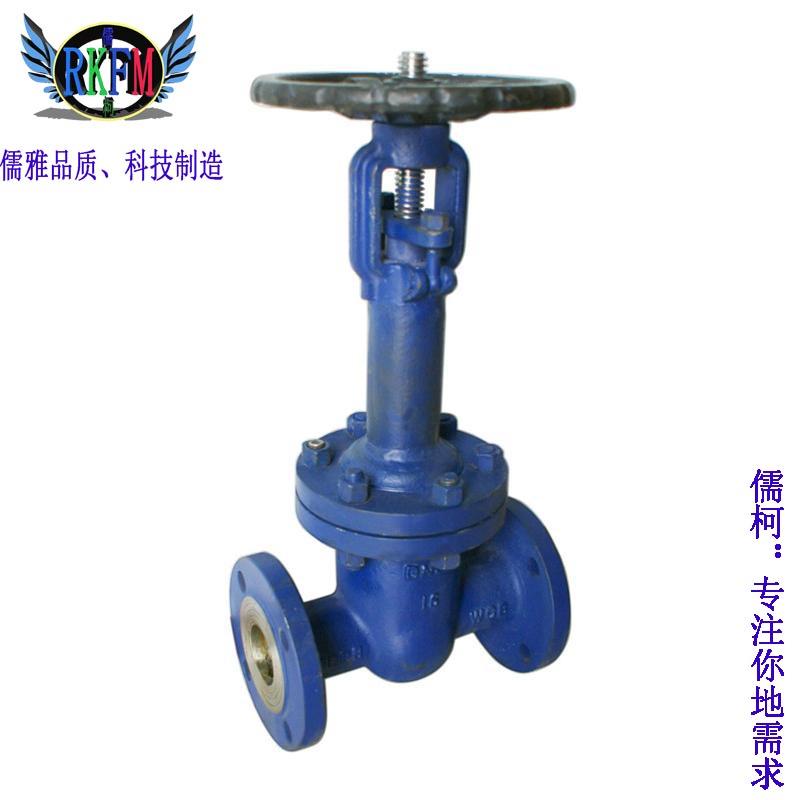 Shanghai the intersection of Confucianism and Ke valve the intersection of corrugated pipe and flanged gate valve – the intersection of WZ41H-16 and manual the intersection of corrugated pipe and discharge gate use in at pipeline that full flow leak require mainly, can get up not to let out, the characteristic of requiring etc. that do not sound the flowrate. To it opens and closes piece to be valve clack to fill shape discharge gate, seal and personally submit the level or conical surface, the valve clack does the rectilinear motion along the fluidic mean line. The movement form of the valve stem, go up and down rod typely (valve stem goes up and down, the hand wheel does not go up and down) ,Also go up and down and rotate rod typely (the hand wheel is rotated and gone up and down together with valve stem, the nut is set up on the valve body) . The corrugated pipe discharge gate is only suitable for the wide-open and full-turn-off, does not allow to regulate and reduce expenditure.
Design, make the standard
1,Design and make and press GB/T 12234-89
2,The structure length presses GB/T 12221-89
3,The size of flange coupling presses: JB/T 79-94
4,The check sum test of the valve presses GB/T 13927-92
5,Make the requirements: DN50 is less than or equal to DN500
6,Corrugated pipe flanged gate valve – WZ41H-16 manual corrugated pipe discharge gate Germany marks series F5 the bright rod type discharge gate is suitable for liquid-gas, aqueous medium pipe line and apparatus, serve the purpose of putting through and cutout. This valve of fluid resistance and opening and closing the required force moment minorly, is not limited by the flow direction controlled, physique is simpler, it is better to make manufacturability. So it is in a very large range to use, apply to fields such as food, medicine, water supply and sewage work, architecture, fire control,etc. extensively.
Design criteria: DIN3352
Structure length: DIN3202
Attachment flange: DIN2543-2545
Experiment and test: DIN3230
Corrugated pipe flanged gate valve – WZ41H-16 manual corrugated pipe discharge gate " The main performance parameter of this product valve "
Transmission form: Hand wheel.
Connection mode: Flange.
Structural features: Dark pole.
Sealed material: Soft to seal, hard and seal.
Make the requirements: DN15 is less than or equal to DN350.
Applicable temperature: 0 ¡æ is less than or equal to 550 ¡æ.
Applicable pressure: 0.1Mpa is less than or equal to 6.4Mpa (vltrahigh voltage can be made to order) .
Valve body material: Stainless steel (304) , cast steel (WCB) , chrome molybdenum steel (WC6) When.
Applicable medium: Water, oil, steam, all kinds of acid, corrosivity medium,etc..
WZ41H corrugated pipe flanged gate valve WJ41H corrugated pipe closes at the valve WJ641H pneumatic ripple pipe valve WJ941H electronic ripple pipe valve WZ43H corrugated pipe dull and stereotyped floodgate valve Y44H wave The line tube pressure reducing valve A47H corrugated pipe safe valve ZJHF corrugated pipe regulates the valve WZ11Y-100 high-pressure bellows valve WZ11Y high-temperature ripple pipe valve WJJ corrugated pipe needle valve
Corrugated pipe flanged gate valve – WZ41H-16 manual corrugated pipe discharge gate products major advantage:
1.The corrugated pipe seals the discharge gate, its key part metal bellows, lower end and valve stem assembly adopt automatic roll welding to weld, top and connecting plate roll and weld automatically, form a metal protective screen between fluid medium and atmosphere, guarantee a leakage of valve stem;
2.A double one sealed design ' Corrugated pipe + packing) If the corrugated pipe fails, the packing of valve stem will avoid letting out, and accord with world and seal the standard;
3.The valve cover is adding the lipoprotein to connect, can lubricate valve stem, nut and shaft sleeve directly, do not add the lubricating oil only to the whorl as the traditional one;
4.Design the hand wheel in human engineering, it is longer, operation relaxation is convenient, it is more safe and more reliable;
Employ: Trades such as the petroleum, chemical industry, pharmacy, chemical fertilizer, electricity,etc.
Applicable temperature: -From 196 ¡æ to 600 ¡æ
Applicable nominal pressure: PN1.6~13Mpa


Contacts: Manager Zheng
Telephone: 8613916671098
Fax: 86
Email: shrkfm@163.com
Web site: http://www.zhe-fm.com
Address: Little harbour industry Road, Lane 158 No. 2 of town of Kunshan of Songjiang district of Shanghai
Leave a comment