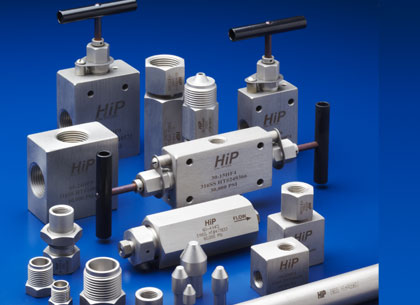 HIP high-pressure relief valve bearing is tall in pressure, it is available that the spring opens many kinds of specifications of pressure range, many kinds of flowrate specifications are available, it is of good performance to seal, easy to use; Can regulate the service pressure live, can also set up the service pressure of the good overflow valve from dispatching from the factory, facilitate the instructions for use of different users, apply to the hydraulic power system or performance test of the gastight seal extensively, suitable for various occasions such as washing of high pressure water, oil field and gas field, chemical industry and petrochemical industry, research and development, university, measuring station.
Since 1500PSI-60000PSI in HIP relief valve the pressure range of use, 316 valve bodies stainless steel,it import and connect for but dismantling valve seat, mark and mix 9/16& rdquo; The take over exceeds the high voltage interface ( HF9) ,The adapter of connective is transformed to the interface of other specifications; Export to the interface 1/2& rdquo; NPT female screw thread. Seal maximum and use reachable 177 ¡æ of temperature with Viton material, the peak rate of flow of the relief valve uses water as the medium marked.
The adjustable pressure safety valve adjustment range of HIP high-pressure relief valve is wide, 316 stainless steel valve bodies, mark and mix EPDM and seal materials, Teflon, Nylon seals materials availably; It import it connect for can dismantling valve seat,last sum liquid dielectric.
HIP relief valve( Factory's setting pressure happens) Variable range of pressure
Type of the relief valve
Import
Export
Throttle mouth (& quot)
Maximal flow amount H20 (liter / Min)
1,500 to 2,999PSI (10.3 to 20.6Mpa)
402633-03
HF9
1/2" NPT
1/4"
49.2
3,000 to 10,999PSI (20.6 to 75.8Mpa)
402633-10
HF9
1/2" NPT
1/4"
94.6
11,000 to 20,999PSI (75.8 to 144.8Mpa)
402633-20
HF9
1/2" NPT
3/16"
75.7
21,000 to 30,000PSI (144.8 to 206.8Mpa)
402633-30
HF9
1/2" NPT
1/8"
37.8
30,001 to 45,000PSI (206.8 to 310.3Mpa)
402633-45
HF9
1/2" NPT
7/64"
37.8
45,001 to 60,000PS (310.3 to 413.7Mpa)
402633-60
HF9
1/2" NPT
3/32"
30.3

HIP relief valve( Adjustable pressure of scene)
Control band of pressure
Type of the relief valve
Import
Export
Throttle mouth (& quot)
CV value
1000 to 10000PSI (6.9 to 69Mpa)
HIP-10RV
1/4" NPT
1/4" NPT
0.070
0.12
10000 to 20000PSI (69 to 138Mpa)
HIP-20RV
1/4" (HF4)
1/4" NPT
0.070
0.12

Head's profit is full of trees (Hydrosys) It is U.S.A. HIP Company's China's general agent, responsible for the sale in China, technical service.
Welcome you to call to consult in Head profit Science Technologies Co., Ltd. full of trees of Beijing in more HIP high-pressure relief valve detailed information!

Contacts: Miss Zhang
Telephone: 8601063357350
Fax: 86
Email: 2323661275@qq.com
Web site: http://www.hydrosyscorp.com/
Address: Room 107, No. 19 of West Road of the money of the intersection of Daxing District Xihongmen of Beijing and town
Leave a comment