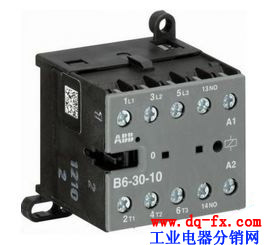 Brand: ABB
Name: Series ABB B AC contactor
Type: B6-30-10 220-240V

Series ABB B AC contactor
B6 miniature contact apparatus Technical parameter:
Accord with the standard: IEC60947-4-1 IEC 60947-5-1
Mechanical life: 10 million times
Use:
ABB miniature contact apparatus suitable for trade of moulding plastics, pushing the machinery, gate system, air conditioner, compressor, water pump, transporting machinery etc., main fact
Apply to controlling three phase motor and rated operational voltage to reach the power circuit of 690V AC or 220V DC. And is suitable for being other
Application, such as isolating, bypass, illumination control, heater and electric locomotive,etc..
Characteristic:
Miniature contact apparatus have exceeding small volume incomparable, suitable for, require the intersection of subminiature and application of control box very. And have many kinds of shape
The type, satisfiable various employ the requirement.
Leave a comment